Your Future
Weekly Wisdom #16
Today I ask you to approach your world a little differently. Let's take past experiences, both good and bad; I'm sure we've all had a substantial amount of each, and toss them aside for just a few minutes. Now, imagine that your future is limitless and totally created by YOU. Euphoric isn't it? If we can allow ourselves a genuine sense of letting go while our biggest and brightest future slowly takes over our thoughts, we can truly create a life that happens for us, not to us – just the way we want.  Much too often, we allow our bad experiences to stay with us, holding onto them too long, they control who we are, our thoughts, and hold us back from becoming a greater person or achieving more professionally. And, conversely, as we look back into the past and use our previous good experiences as a crutch or hindrance, we're unable to attain a better future.  Letting go means gaining more. Sure, we've all experienced disappointment and setbacks, whether in business or personal growth. We sabotage ourselves with negative thoughts, dwelling on how we failed or fell short on goals, responsibilities or promises to ourselves. I believe if you can allow yourself to let go of those disappointments and failed expectations,  I can help you clear a path to greater success and wealth. It will take some effort on your part.  Rather than reflecting on negative experiences, apply what you've learned from your loss and move forward, toward a more flourishing future – one that includes all of your experiences – both good and bad. Let's get started. What we do creates our reality. We must boldly transform our thoughts of wanting to achieve wealth and happiness into actions that can create opportunities.  Think about it this way, have you ever had a candid conversation with a child who sincerely sees the magic in life? Whose vision is far greater than the expectations placed on him? He holds a genuine sense of wonder in the way he views the world. He has no judgments; no limits, no good nor bad thoughts dragging him toward anything but his dreams –  his future is limitless. Let's be honest, not many of us will be Olympians or World Cup Players, but we do have a personal race toward a finish line that holds an abundance of success, wealth and happiness. Through disciplined goal setting, we can focus on our sheer aspirations, available resources, and what is physically possible to attain our dreams of success.  When we let go of our past experiences, we can create our own trajectory, a future that we decide for ourselves and I believe my webinar can help you do just that. Here's some of what we'll tackle:
Letting Go Of The PAST – 
It's Not Personal – Separate your failure from your identity. It's not you; it just happens to be the outcome of a particular situation.
Be Kind to Yourself – Allow your setbacks to be an opportunity for growth and making progress toward your goals.
Redefine Success -Don't dwell on a bad situation. Your past has benefit, but it should never dictate your future, rather think about how you can leverage the past to achieve a bigger and brighter future.
Look To The FUTURE –
Adapt – Look at your failure analytically. Be curious in understanding what went wrong and how you might have achieved a better outcome. Are there areas in your life you can apply your newly acquired insight?
Harness Your Potential – Build and create the framework for goals and dreams that have limitless potential, because that is your reality.
Keep Your Eye On The Prize – Focus on the finish line, where do you want to end up? See yourself in the winners circle, then work back to establish a starting point. From there, you create the goals, steps and sacrifices it takes to achieve your dreams.
What the future holds for us, depends on what we hold for the future. Hard working today's make high-winning tomorrows. ~ William Holler

THE BOOK OF THE WEEK 
Desmond & Mpho Tutu's   –  Book of Forgiving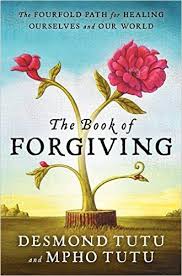 (Click the Image to buy a copy of the Book)
Forgiveness is something that we all struggle with.  It doesn't get any easier, we just get better at it.   In this weeks book, I am hoping to gain some insights about forgiveness from Desmond Tutu.  He has an incredibly powerful story about war ravaged Africa and the forgiveness that he had to instill in his life.    Read this one along with me!
Last Weeks Book Summary
Jon Ronson's –  So You've Been Publicly Shamed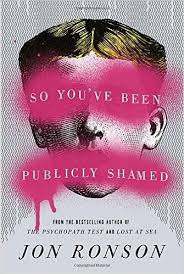 (Click the Image to buy a copy of the Book)
I have not yet finished this book yet… I should be finishing it in the next day or so.  I'll be sure to update my review after I am done.  Be sure to check back!